1210
Detailid

Esmane info

Ettevõte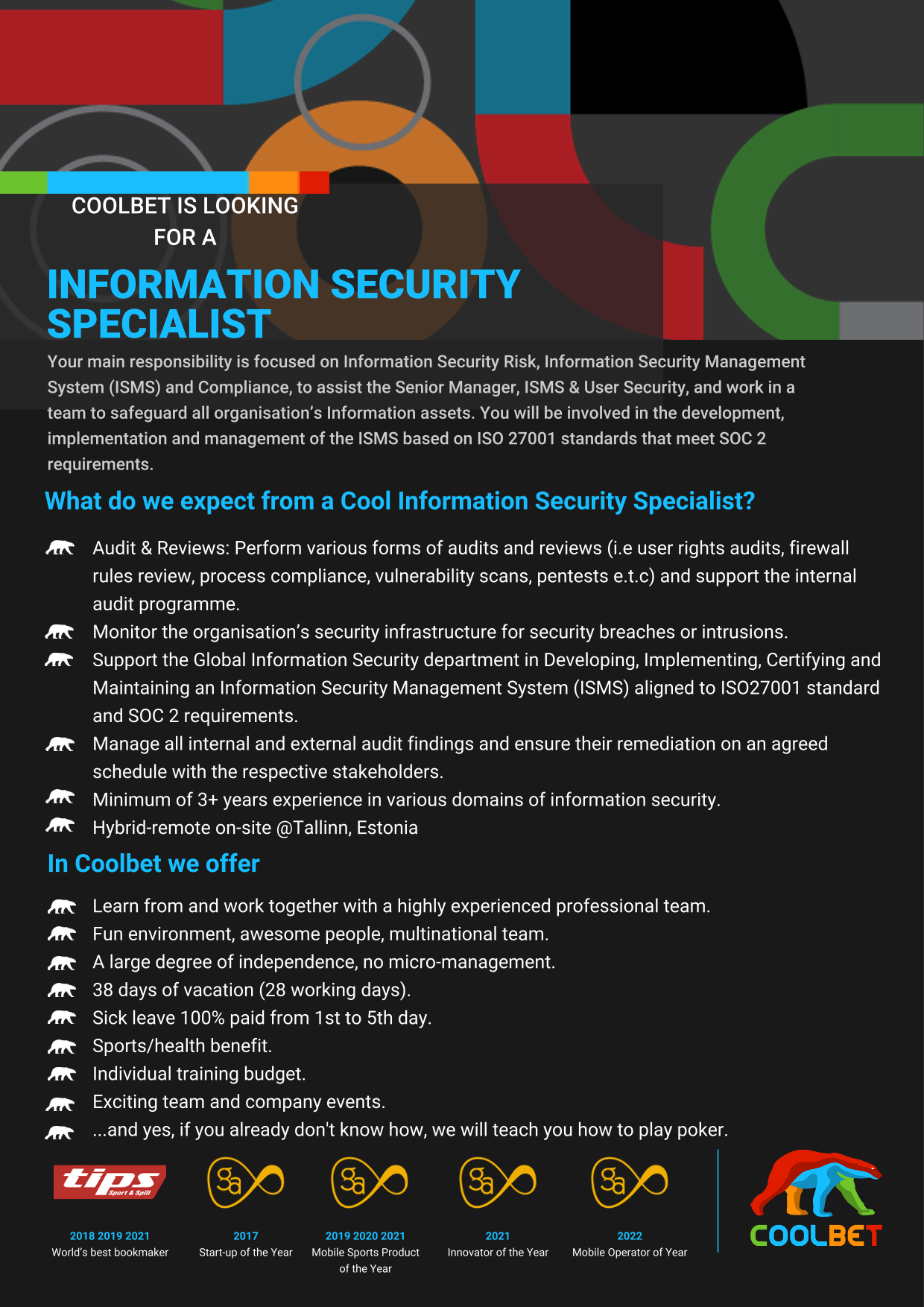 Information Security Specialist
YOUR COOL ROLE

Your main responsibility is focused on Information Security Risk, Information Security Management System (ISMS) and Compliance, to assist the Senior Manager, ISMS & User Security, and work in a team to safeguard all organisation's Information assets. You will be involved in the development, implementation and management of the ISMS based on ISO 27001 standards that meet SOC 2 requirements.

COOL RESPONSIBILITIES
Audit & Reviews: Perform various forms of audits and reviews (i.e user rights audits, firewall rules review, process compliance, vulnerability scans, pentests e.t.c) and support the internal audit programme.
Monitor the organisation's security infrastructure for security breaches or intrusions.
Investigate security breaches where breaches have occurred and participate in incident response to minimise the impact.
Support the Global Information Security department in Developing, Implementing, Certifying and Maintaining an Information Security Management System (ISMS) aligned to ISO27001 standard and SOC 2 requirements.
Manage all internal and external audit findings and ensure their remediation on an agreed schedule with the respective stakeholders.
Escalate risks and issues relating to the management and operation of the ISMS to the Senior Manager, ISMS & User Security and VP of Global Information Security.
Ensure that the ISMS is properly documented, measurable and effectively communicated to the entire organisation.
WHAT DO WE EXPECT FROM A COOL INFOSEC SPECIALIST?
Minimum of 3+ years experience in various domains of information security.
Implementing various Information security and compliance frameworks i.e ISO 27001, GDPR, NIST, SOX 404, SOC2, PCI DSS, e.t.c
Carrying out risk assessments and treatment with control selection/ implementation in an ISO27001 and SOC 2 environment.
Providing guidance on best practices and compliance requirements in implementing security in systems, networks and software development environments.
Communicating security standards, policies and best practices to all relevant stakeholders within the organisation.
Proposing and implementing security-related enhancements and best practices.
Developing and maintaining security documentation (policies, procedures and guidelines).
Language skills: excellent spoken and written English.
IN COOLBET WE OFFER

📚 Learn from and work together with a highly experienced professional team.
🤸‍♂️ Fun environment, awesome people, multinational team.
👐 A large degree of independence, no micro-management.
🏡 Flexible working schedules.
🏝 38 days of vacation (28 working days).
🏥 Sick leave 100% paid from 1st to 5th day.
🚴‍♂️ Sports/health compensation.
👨‍🎓 Individual training budget.
💰 Anniversary bonus.
🤹‍♂️Exciting team events and annual seminars.
🌍 Relocation compensation.
♣ ..and yes, if you already don't know how, we will teach you how to play poker.
RECRUITMENT PROCESS
1st Interview (HR+Hiring Manager) -> 2nd Interview (Scenario based assignment) -> Meeting with the team -> Background check -> Offer
Start date: 15th of May/ 1st of June
The job might require travel from time-to-time
We are an equal opportunity employer, and we value diversity. Our diverse backgrounds, experiences, characteristics, and traits make us better at serving customers. So please, come as you are!

LOCATION
Tallinn, Estonia

Coolbet is an award-winning sportsbook, online casino, and poker provider with a presence in 10 countries on 3 continents holding 4 gaming licenses. Together with GAN Limited, the company is set forth to become a dominant supplier in the USA markets. Our office is located in the center of Tallinn, Estonia, with 400+ employees from more than 50 countries. Coolbet's goal is to deliver the best gaming solutions possible by continuously focusing on product development and innovation while creating a new industry standard for responsible gaming.
Selle ametikoha keskmise palga info leiad aadressilt palgad.ee.
Asukoht
Tallinn, Harjumaa,

Eesti


Paldiski mnt 29
Kontaktisik
Saskia Dmitrijev

Are you tired of working for a company that's as exciting as watching paint dry and you want to try something new? Look no further than Coolbet! Join Coolbet, the innovative iGaming company that's taking the world by storm! We've got more than 400 talented and passionate employees from over 50 countries, all working together to deliver the best gaming experience possible.

At Coolbet, we believe in taking risks, sharing ideas, and owning our work. We're not afraid of change, because we know that our customers are at the heart of everything we do. That's why we strive to be the fairest, most personal, and most transparent gaming site in the industry.

But it's not all work and no play! We've got a fantastic atmosphere that's fun, creative, and full of energy. Whether you're brainstorming new ideas with your team or bonding over a game of ping pong, you'll love being part of the Coolbet family. We offer a fantastic working environment and various activities such as an annual seminar, team events, Friday Beers, and poker nights to keep our employees engaged and connected.

And the best part? We're growing fast and looking for new talent to join our team! Whether you're a seasoned pro or just starting out, we've got opportunities for everyone. So why not take a chance to apply now to take part in our new adventure and discover why Coolbet is the place to be? With our unique blend of innovation, responsibility, and fun, you'll never want to leave.
---
Sarnased töökuulutused:
IT System Administrator

IT Specialist

Küberturbespetsialist