928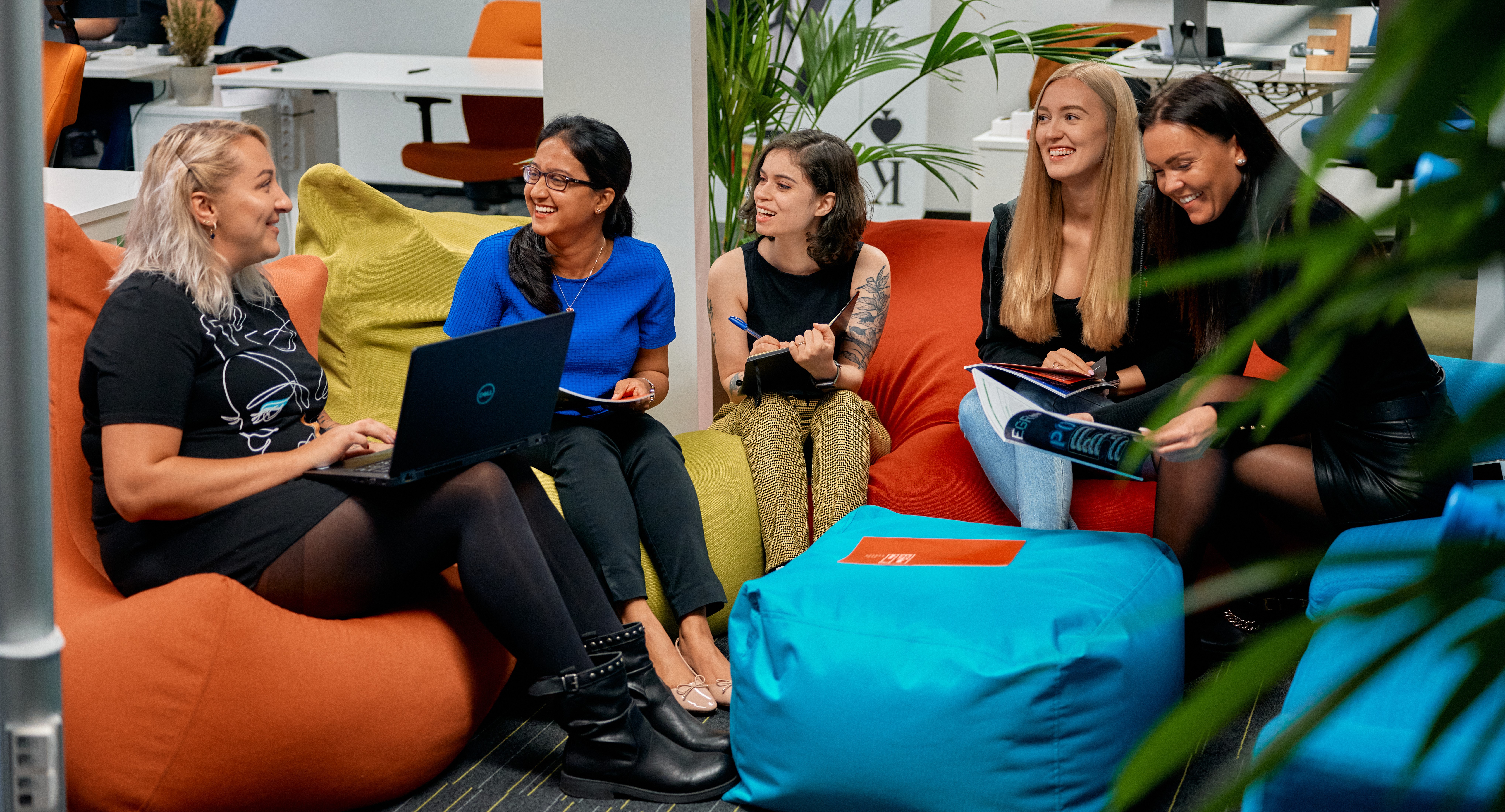 Detailid

Esmane info

Ettevõte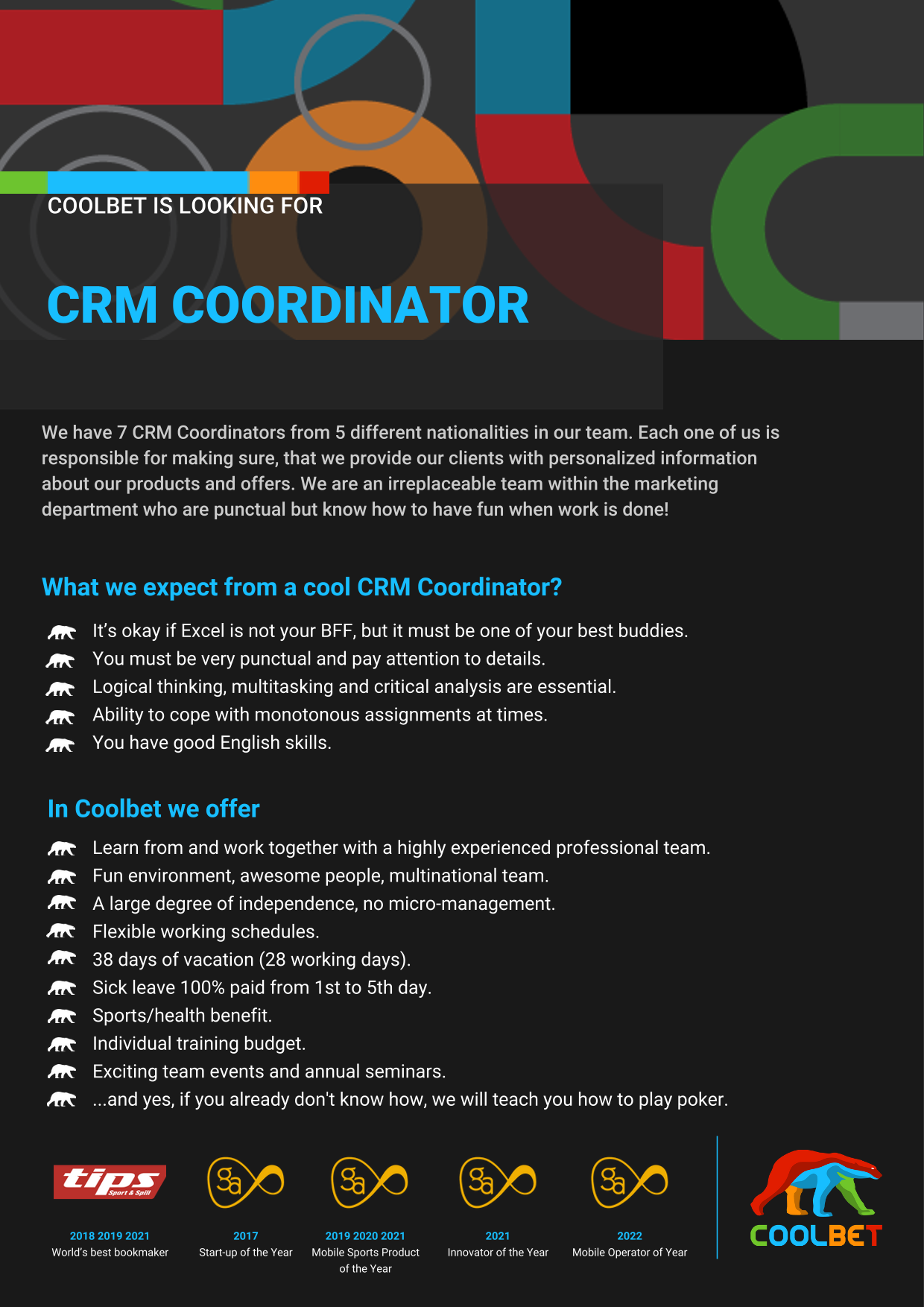 CRM Coordinator
YOUR COOL ROLE

We have 7 CRM Coordinators from 5 different nationalities in our team. Each one of us is responsible for making sure, that we provide our clients with personalized information about our products and offers. We are an irreplaceable team within the marketing department who are punctual but know how to have fun when work is done!

YOUR COOL RESPONSIBILITIES
Creating customer segments based on set criteria and behaviour.
Timely preparation of communication (from collecting translations to setting up the CRM system for send-outs).
Follow-up analysis on the efficiency of the communication strategy.
A/B testing of communication channels and offers.
You will spend significant time with Excel. If you're good at it, then it will be fun.
WHAT DO WE EXPECT FROM A COOL CRM COORDINATOR?
It's okay if Excel is not your BFF, but it must be one of your best buddies.
You must be very punctual and pay attention to details.
Logical thinking, multitasking and critical analysis are essential.
Ability to cope with monotonous assignments at times.
You have good English skills. Spanish skill is an advantage.
IN COOLBET WE OFFER

📚 Learn from and work together with a highly experienced professional team.
🤸‍♂️ Fun environment, awesome people, multinational team.
👐 A large degree of independence, no micro-management.
🏡 Flexible working schedules.
🏝 38 days of vacation (28 working days).
🏥 Sick leave 100% paid from 1st to 5th day.
🚴‍♂️ Sports/health compensation.
👨‍🎓 Individual training budget.
💰 Anniversary bonus.
💹 Possibility to buy GAN shares at a discounted price.
🤹‍♂️Exciting team events and annual seminars.
🌍 Relocation compensation.
♣ ..and yes, if you already don't know how, we will teach you how to play poker.
RECRUITMENT PROCESS
A quick test to see your Excel skills -> Interview with the hiring manager and HR -> Meeting with the team (on site) --> Background check -> Offer
Start date: approx. at the beginning of April
Recruiting from within the EU due to processes.
We are an equal-opportunity employer, and we value diversity. Our diverse backgrounds, experiences, characteristics, and traits make us better at making things happen. So please, come as you are!
LOCATION
Tallinn, Estonia

Coolbet is an award-winning sportsbook, online casino, and poker provider with a presence in 10 countries on 3 continents holding 5 gaming licenses. Together with GAN Limited, the company is set forth to become a dominant supplier in the USA markets. Our office is located in the center of Tallinn, Estonia, with 400+ employees from more than 50 countries. Coolbet's goal is to deliver the best gaming solutions possible by continuously focusing on product development and innovation while creating a new industry standard for responsible gaming.
Selle ametikoha keskmise palga info leiad aadressilt palgad.ee.
Lisahüved:

 additional vacation days, sick leave paid from 1st day, sports/health compensation, flexible working schedule, individual training budget, anniversary bonus
Asukoht
Tallinn, Harjumaa,

Eesti


Paldiski mnt 29
Kontaktisik
Saskia Dmitrijev

Welcome to Coolbet and our self-developed gaming site and sportsbook software. Coolbet holds Estonian, Swedish and Maltese gaming licenses. The company is located in the center of Tallinn, with 400+ employees.

Coolbet strives to be fair, personal and open with information that you will rarely find on other gaming sites. Coolbet aims to improve the knowledge our customers have for online gaming. We will continue to focus on product development and innovation, and set new standards for responsible gaming.

Just in case you were wondering, the name Coolbet was chosen for 2 specific reasons. Firstly, because it is short and almost impossible to forget. And secondly because we want our customers to "Stay Cool and Bet Responsibly" which is also promoted as our positoning statement.

The Coolbet management brings over 90 years of online gaming experience to the table. And they have assembled a staff that is second to none in the industry in order to give you, our customer the very best service in everything we do!
Now COOLBET together with GAN Limited set forth to become a dominant supplier in the USA markets. Join now to take part of the new adventure!
---
Sarnased töökuulutused:
English Speaking Travel Consultant
Customer Care Consultant (night work)