149
Detailid

Esmane info

Ettevõte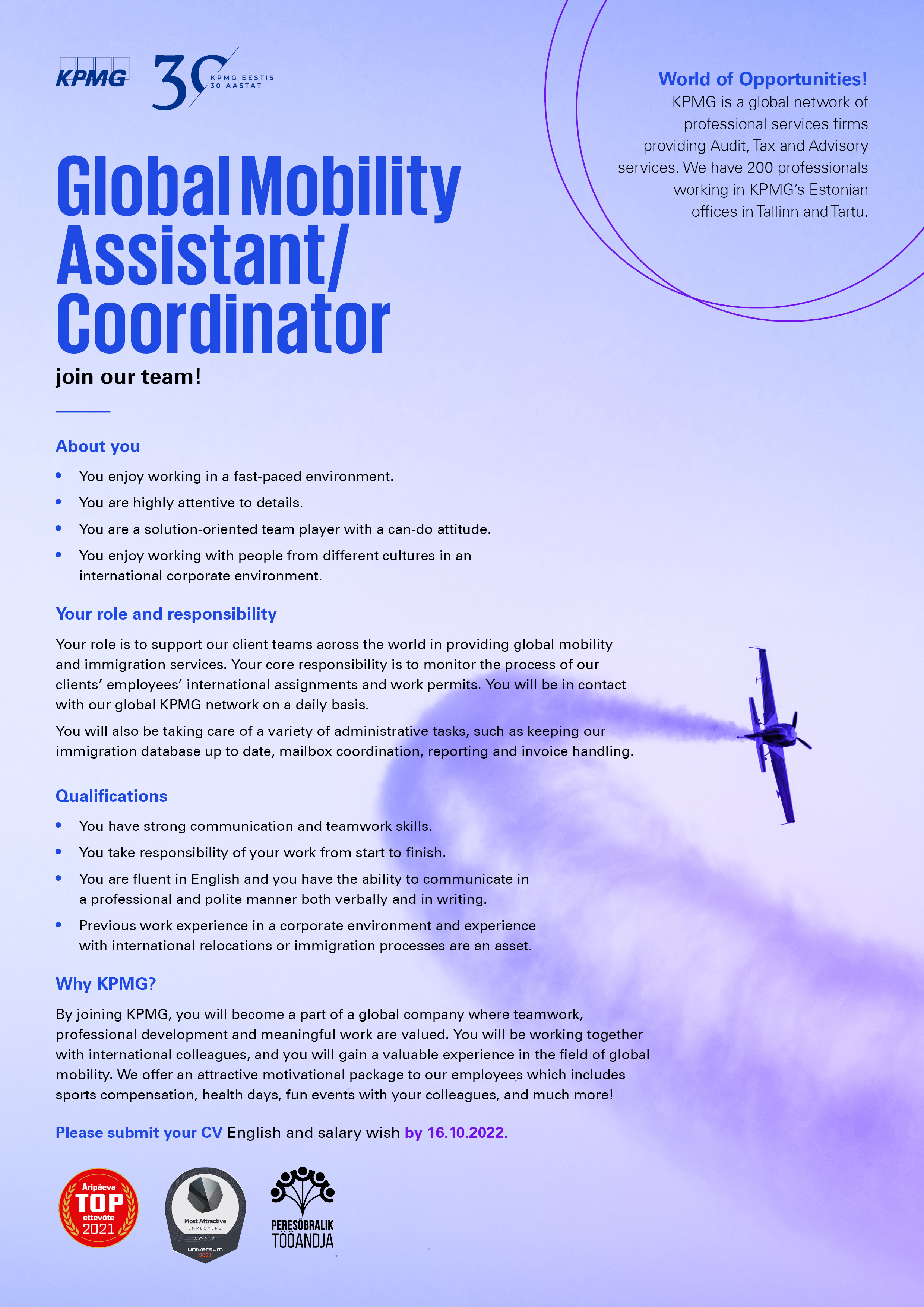 About you:
• You enjoy working in a fast-paced environment.
• You are highly attentive to details.
• You are a solution-oriented team player with a can-do attitude.
• You enjoy working with people from different cultures in an
international corporate environment.
Your role and responsibility:
Your role is to support our client teams across the world in providing global mobility and
immigration services. Your core responsibility is to monitor the process of our clients'
employees' international assignments and work permits. You will be in contact with our
global KPMG network on a daily basis.
You will also be taking care of a variety of administrative tasks, such as keeping our
immigration database up to date, mailbox coordination, reporting and invoice handling.
Qualifications:
• You have strong communication and teamwork skills.
• You take responsibility of your work from start to finish.
• You are fluent in English and you have the ability to communicate in a professional
and polite manner both verbally and in writing.
• Previous work experience in a corporate environment and experience with
international relocations or immigration processes are an asset.
Why KPMG?
By joining KPMG, you will become a part of a global company where teamwork,
professional development and meaningful work are valued. You will be working together
with international colleagues, and you will gain a valuable experience in the field of global
mobility. We offer an attractive motivational package to our employees which includes
sports compensation, health days, fun events with your colleagues, and much more!
Selle ametikoha keskmise palga info leiad aadressilt palgad.ee.
Asukoht
Tallinn, Harjumaa,

Eesti


Narva mnt 5
Kontaktisik
Ekaterina Nurmsalu
58161691
Maailm täis võimalusi!
KPMG on ülemaailmne auditi-, maksu- ja nõustamisteenuseid pakkuvate ettevõtete võrgustik, mis tegutseb 154 riigis ning mille liikmesettevõtetes üle maailma töötab üle 237 000 oma ala spetsialisti. KPMG Baltics OÜ on üks juhtivaid rahvusvahelisi ärinõustamisfirmasid Baltikumis.
World of Opportunities!
KPMG is a global network of professional services firms providing Audit, Tax and Advisory
services. We have 200 professionals working in KPMG's Estonian offices in Tallinn and Tartu.
Sarnased töökuulutused:
Senior Finance Specialist, Bank Reconciliations

Accounting and Vendor Management Assistant
Tulevane müügispetsialist kindlustussektoris