699
Detailid

Esmane info

Ettevõte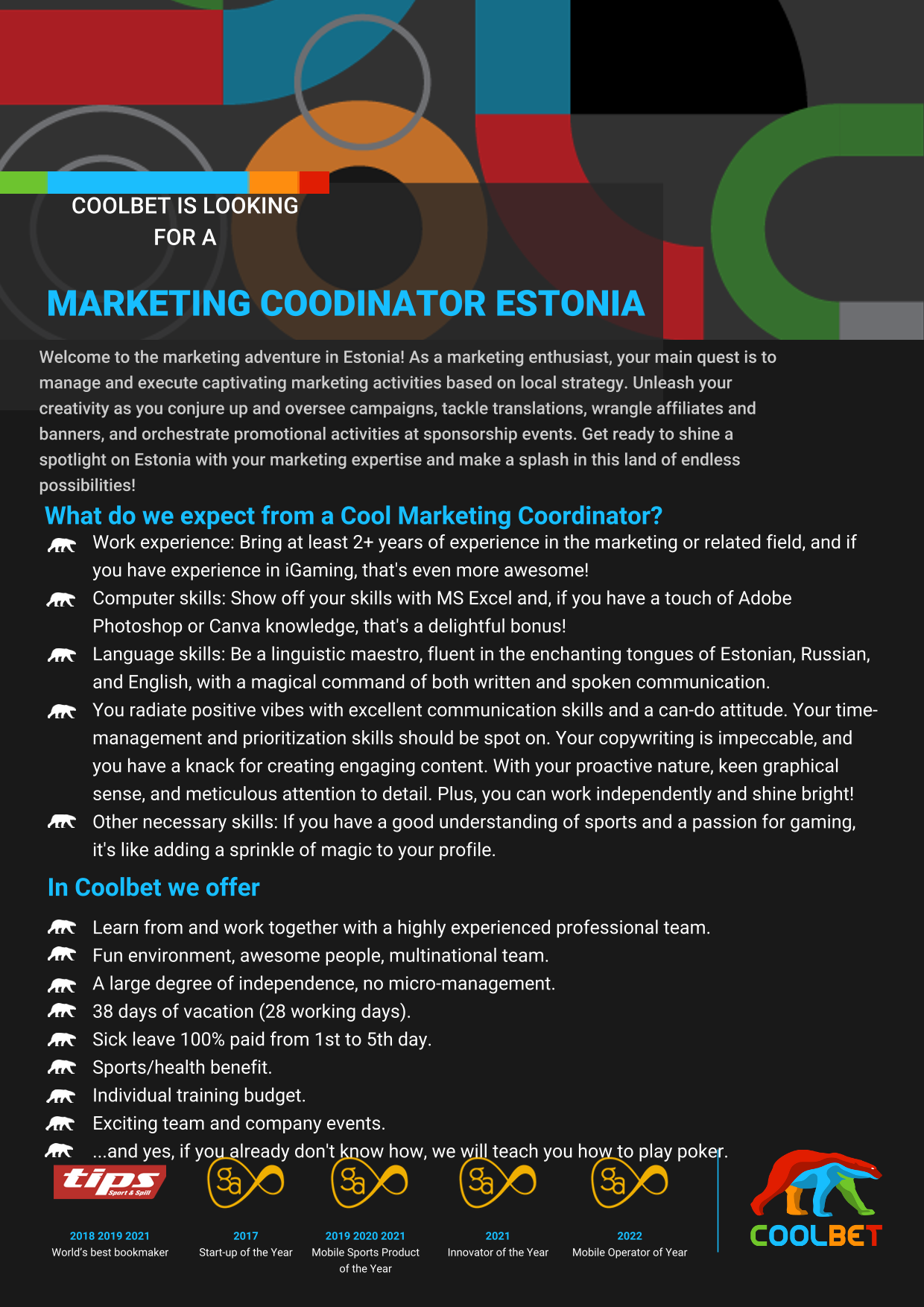 Marketing Coordinator Estonia
YOUR COOL ROLE
Welcome to the marketing adventure in Estonia! As a marketing enthusiast, your main quest is to manage and execute captivating marketing activities based on local strategy. Unleash your creativity as you conjure up and oversee campaigns, tackle translations, wrangle affiliates and banners, and orchestrate promotional activities at sponsorship events. Get ready to shine a spotlight on Estonia with your marketing expertise and make a splash in this land of endless possibilities!

YOUR COOL RESPONSIBILITIES
Put your wizardry to work by creating and managing captivating sportsbook, casino, and poker campaigns that will have customers on the edge of their seats.
Show off your linguistic skills as you translate and adapt English content into Estonian and Russian, ensuring that our site and marketing materials resonate with our diverse audience.
Let your creativity run wild as you craft engaging newsletters, playful SMS messages, and other promotional materials that will leave our customers wanting more.
Become the ultimate coordinator extraordinaire as you manage Coolbet's relationships with our sponsorship partners, making sure our collaborations are a win-win for everyone involved.
Embrace a variety of tasks, both big and small, to supercharge Coolbet's marketing efforts in Estonia. From media planning to affiliate and banner management, and even organizing exciting events, every day will bring new adventures.
Collaboration is the name of the game! Work hand-in-hand with different departments within the company to achieve the best possible results and make magic happen.
WHAT DO WE EXPECT FROM A COOL MARKETING COORDINATOR?
Work experience: Bring at least 2+ years of experience in the marketing or related field, and if you have experience in iGaming, that's even more awesome!
Computer skills: Show off your skills with MS Excel and, if you have a touch of Adobe Photoshop or Canva knowledge, that's a delightful bonus!
Language skills: Be a linguistic maestro, fluent in the enchanting tongues of Estonian, Russian, and English, with a magical command of both written and spoken communication.
Personal characteristics: Radiate positive vibes with excellent communication skills and a can-do attitude. Your time-management and prioritization skills should be spot on. Your copywriting is impeccable, and you have a knack for creating engaging content. With your proactive nature, keen graphical sense, and meticulous attention to detail, you'll be a true star. Plus, you can work independently and shine bright!
Other necessary skills: If you have a good understanding of sports and a passion for gaming, it's like adding a sprinkle of magic to your profile.
IN COOLBET WE OFFER
Learn from and work together with a highly experienced professional team.
Fun environment, awesome people, multinational team.
A large degree of independence, no micro-management.
Flexible working schedules.
38 days of vacation (28 working days).
Sick leave 100% paid from 1st to 5th day.
Sports/health compensation.
Individual training budget.
Exciting team and company events.
..and yes, if you already don't know how, we will teach you how to play poker.
RECRUITMENT PROCESS
Interview -> Home assignment -> Background check -> Offer
Start date: ASAP
Recruiting from Estonia
We are an equal opportunity employer, and we value diversity. Our diverse backgrounds, experiences, characteristics, and traits make us better at serving customers. So please, come as you are!

LOCATION
Tallinn, Estonia

Coolbet is an award-winning sportsbook, online casino, and poker provider with a presence in 10 countries on 3 continents holding 4 gaming licenses. Together with GAN Limited, the company is set forth to become a dominant supplier in the USA markets. Our office is located in the center of Tallinn, Estonia, with 400+ employees from more than 50 countries. Coolbet's goal is to deliver the best gaming solutions possible by continuously focusing on product development and innovation while creating a new industry standard for responsible gaming.
Selle ametikoha keskmise palga info leiad aadressilt palgad.ee.
Lisahüved:

 additional vacation days, sports/health compensation, flexible schedule, individual training budget, and sick leave compensation from the 1st day.
Asukoht
Tallinn, Harjumaa,

Eesti


Paldiski mnt 29
Tööaeg
Täistööaeg
Paindlik tööaeg
Are you tired of working for a company that's as exciting as watching paint dry and you want to try something new? Look no further than Coolbet! Join Coolbet, the innovative iGaming company that's taking the world by storm! We've got more than 400 talented and passionate employees from over 50 countries, all working together to deliver the best gaming experience possible.
At Coolbet, we believe in taking risks, sharing ideas, and owning our work. We're not afraid of change, because we know that our customers are at the heart of everything we do. That's why we strive to be the fairest, most personal, and most transparent gaming site in the industry.
But it's not all work and no play! We've got a fantastic atmosphere that's fun, creative, and full of energy. Whether you're brainstorming new ideas with your team or bonding over a game of ping pong, you'll love being part of the Coolbet family. We offer a fantastic working environment and various activities such as an annual seminar, team events, Friday Beers, and poker nights to keep our employees engaged and connected.
And the best part? We're growing fast and looking for new talent to join our team! Whether you're a seasoned pro or just starting out, we've got opportunities for everyone. So why not take a chance to apply now to take part in our new adventure and discover why Coolbet is the place to be? With our unique blend of innovation, responsibility, and fun, you'll never want to leave.
---
Sarnased töökuulutused:
Card Fraud Agent

Wise
Tallinn
€ 2100 – 2100
Tähtaeg:
25.10.2023
Turundusassistent
Müüja